Ad blocker interference detected!
Wikia is a free-to-use site that makes money from advertising. We have a modified experience for viewers using ad blockers

Wikia is not accessible if you've made further modifications. Remove the custom ad blocker rule(s) and the page will load as expected.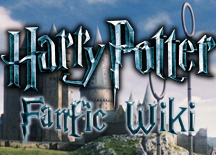 Welcome to the
Harry Potter Fanfic Wiki
, a place for anyone and everyone to create their own fiction based around the magical world of
Hogwarts School of Witchcraft and Wizardry
!
Biting Thru The Cowards by SnapeFan1
Neville Longbottom is stopped on his way out of the Potions' classroom-and by his feared Boggart no less-Severus Snape. But there's more to Professor Severus Snape than it seems...on account that a pair of gleaming fangs are in the mouth of the Potions' Master! Will Neville ever survive without a scar on his neck, or end up as the Professor's meal?

If your looking for an awesome fanfiction, take a look at some of the best pages;
| | |
| --- | --- |
| Highest Voted | Most Visited |

Why not take a look at some of these articles?
Help is always here if you know where to find it. If ever you have any questions, being bullied, seeing some horrible behaviour or vandalism, leave me a message here and I will respond as soon as possible. If you are ever lonely you can email me too. I don't mind, it's no bother!

To make a new story, just enter the article title into the blank box and click create!

To make Harry Potter Fanfic Wiki fun for everybody I have added a new ideas page. Anybody can edit it if they think they have an idea for this wiki. It's also a great way to make this wiki unique and to attract more viewers and contributers!!
Not Sure Where to Start?Edit
Are you bored and unsure what to do? Great! Read through the wiki tutorial page and then help us clean up these pages;
Create blog post
The objective is simple. Create an original, believable character and write a short story about him/her. Sounds simple, right?

To win the competition, you must...

Create a character page. Make sure you…

Read more >
See more >